Trademark Guidelines
GUIDELINES FOR THIRD PARTIES WHO USE VOICEAGE TRADEMARKS AND LOGOS

TABLE OF CONTENTS
3.1 REFERENTIAL TRADEMARK USAGE
3.2 SIMPLE RULES TO FOLLOW TO PROTECT VOICEAGE TRADEMARK
3.3 PROPER USE OF VOICEAGE TRADEMARKS
4. PROHIBITED USE OF VOICEAGE TRADEMARKS

NOTICE
Copyright © 2001-2021 VoiceAge Corporation. All rights reserved.
No part of this manual may be reproduced in any form, written or otherwise, without the express written permission of VoiceAge Corporation.

1. Introduction
Please follow these guidelines carefully. They are designed to ensure proper legal use of VoiceAge Trademarks* and to prevent consumer confusion that may result from improper or illegal usage.
These guidelines will help you identify the correct form for VoiceAge Trademarks and logos and the proper method of marking use of the symbols ® and ™.
*For the sake of simplification, the word "Trademark" used in these guidelines will designate all the trademarks owned by VoiceAge Corporation (including words, names and logos).

2. General Considerations
A Trademark is a word, name, design, or phrase that identifies a product and/or a service and distinguishes it from similar products and/or services made by competitors. The term "Trademark" includes any word, name, symbol (logo) or device, or any combination thereof. Without Trademarks, consumers wouldn't be able to distinguish different manufacturers' products or products of high quality from those of lesser quality. For these reasons, it's important to understand Trademarks and what you can do to protect them.
Trademark rights are acquired by the proper, continuous use of the Trademark. A Trademark that has not been registered with the Trademark Office is noted with a ™. Registered Trademarks are noted with a ®.
Properly used, a Trademark can be legally protected indefinitely. However, if it's used improperly, a Trademark can become diluted or fall into generic use and lose its protected status. The responsibility for protecting Trademarks occurs every time each Trademark is used by VoiceAge licensees, customers, partners, suppliers or sub-contractors in products, presentations, books, marketing materials or advertisements.
VoiceAge Trademarks constitute one of the most important assets of the company in terms of the communication strategy.
Properly using VoiceAge Trademarks by following these Trademarks Usage Guidelines protects and preserves their value.

3.1 Referential Trademark Usage
You may use VoiceAge Trademarks to refer specifically to VoiceAge products in advertising, in books and other printed matter, on clothing or other promotional items, in online and Internet locations, at public exhibitions or demonstrations, and so on, provided however, that:
1. You adhere to the Trademarks Usage Guidelines.
2. You do not disparage VoiceAge or VoiceAge products and services.
3. You display your name and/or logo more prominently than a VoiceAge Trademark.
4. You include a disclaimer that VoiceAge does not sponsor, affiliate, or endorse your product and/or services.
3.2 Simple Rules to Follow to Protect VoiceAge Trademarks
1. Use appropriate markings. Always designate the Trademark with the appropriate ™ or ® symbol.
2. Use the Proper Trademark Form. Always use the Trademark in the same type size, font, spelling, color and line as the one listed below.
3. VoiceAge Trademarks must always be used as adjectives followed by a generic term (such as "software") and never as nouns or verbs.
4. Never combine a VoiceAge Trademark with your (or another third party's) trademark, service mark, trade name, domain name, product name or logo. VoiceAge Trademarks identify the goods and services of VoiceAge Corporation. No third party may use any VoiceAge Trademark as their trademark, service mark, trade name, domain name, product name or logo.
5. Attribute ownership of VoiceAge Trademarks to VoiceAge. When you refer to a VoiceAge Trademark, please include the following notice of trademark attribution where appropriate, such as on your product, printed materials, and online.
Example: ACELP®.net is a trademark or registered trademark of VoiceAge Corporation in Canada and/or other countries.
3.3 Proper Use of VoiceAge Trademarks
1. You must have a distinct product name or trademark for your product(s) which does not include any VoiceAge product name or Trademark.
2. When "VoiceAge" is used only to refer to VoiceAge Corporation, then it is used as a corporate name, not a trademark and, in such case, trademark marking or attribution is ot necessary.
3. The Trademark must be used as provided by VoiceAge Corporation with no changes, including but not limited to changes in the color, proportion, or design, or removal of any words, artwork or Trademark symbols. The Trademark may not be animated, morphed or otherwise distorted in perspective or appearance.
4. The Trademark must stand alone and may not be combined with any other object, including but not limited to other logos, words, graphics, photos, slogans, numbers, design features or symbols.

4. Prohibited Use of VoiceAge Trademarks
1. You should not market any product under a name that is confusingly similar to a VoiceAge product name or Trademark and which might cause confusion.
2. You should not place your company name, trademarks, service marks or product names next to a VoiceAge Trademark on packaging, disk labels or advertisements.
3. You must not imitate VoiceAge packaging and must display your own name more prominently than the VoiceAge Trademark in the product.

Third-party trademarks, trade names, product names and logos contained in this website may be the trademarks or registered trademarks of their respective owners.

IMPORTANT NOTICE: The following Trademarks must be used only as follows: Under no circumstances should fonts, colors, proportion (length/width) or any other visual characteristics be modified or distorted.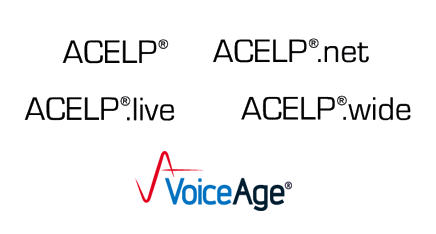 In order to receive the graphic chart and the associated logo file, please contact sales@voiceage.com.

NOTICE Copyright © 2001-2021 VoiceAge Corporation. All rights reserved.